Construction Lending Software

Use the North Shore Construction lending software module to plan, track, and control all financial aspects of a commercial or residential-development construction loan. From initial funding projections and AIA line item budget breakdown to in-the-field inspection data capture on a mobile device, this module makes the administration process easier. Better yet, construction and funding statuses are made transparent to all concerned parties with real-time balances.
Most critical are the exposure controls, in including project and borrower level limits, plus all-encompassing Business Rules that ensure proper workflow, inspection processes, and funding approval.
Over 75 years of experience among the NSS staff in construction lending and automation reflects in the functionality and flexibility built into the Construction lending software. This experience ensures that all types of construction projects and all ways of funding and controlling those projects are supported.
Read below or contact us for more information on our construction lending software.
EXPOSURE CONTROLS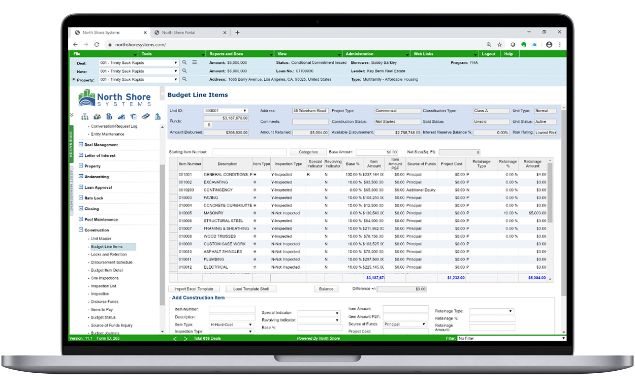 Smart Budgets:

The module's sophisticated budgeting capabilities make it easy to create new ones and offer special capabilities for inspections, retention, change orders, and disbursing funds.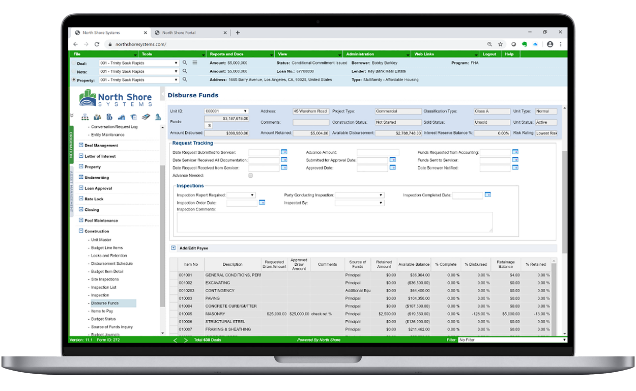 Disburse Funds:

Budgets, disbursement projections, inspection data, and draw requests are all integrated into the disbursement and approval process.
Features & FUNCTION

Complete construction loan administration automation and digitization,
either stand-alone or with fully-integrated LOS and Asset Management

EXCEL-LIKE INTERFACE,
PORTAL DRAW REQUESTS
In addition to the base system, a customer portal is also provided for
CRM, budgets and draws, document upload, and current construction loan and funding status

CONSTRUCTION DRAW INSPECTIONS,
APPROVALS ON-SITE AND ON THE GO
The new iOS app provides base system and portal functions on the iPhone. Loans needing inspections are scheduled onto inspectors' queues and draw request data preloaded for change, approval, commenting, and photos for each. Photos taken on the phone are automatically uploaded into the system and available for documents to begenerated, notifications sent, or other rules-driven communication or processing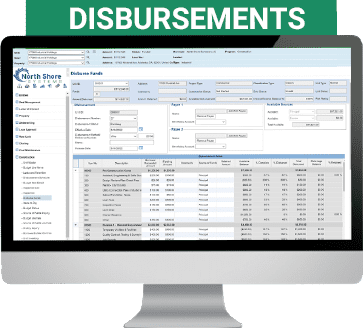 DISBURSEMENT CONTROL
FOR ALL TYPES OF CONSTRUCTION
Whether the property being constructed is commercial or residential, a stage draw or AIA, debt or equity, North Shore offers full automation of the request, approval, and disbursement process … accessed on any type of device.
Benefits

50%

reduction in borrower-line approval time
100%

increase in digital feed of inspection data
85%

increase in accuracy and timing of draw requests
90%

increase in disbursement control
75%

reduction in time building initial budget