CRE Servicing Software

The new North Shore CRE Servicing software module is the final piece to the end-to-end North Shore solution to be developed, as the company left the best for last. The comprehensiveness and usability of the module are the culmination of many years of experience developing, implementing, and using servicing and accounting systems by the company principals, and the support and development staff.
CRE & Construction Finance Servicing
With a sole focus on the CRE and construction finance since the inception of the company, NSS has brought an understanding of the industry's needs like no other vendor. After years of research and planning, it has designed a system that provides what is essential to successfully implement a new platform or convert from an existing one, handle all loan and investor types, comply with regulators & CREFC, and provide an excellent customer and partner experience.
This CRE servicing software can be used stand-alone, in conjunction with your front-end systems, or as one component within a single, integrated end-to-end North Shore platform.
For more information please read below or contact us to learn more about our the final part in our end to end solitons, the CRE Servicing software.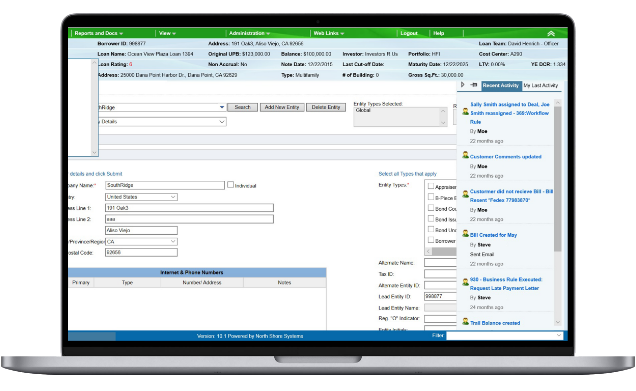 Easy Navigation:

Stay organized your way. Search by Recent Activity, Deal Entity or any number of ways that suit your workflow preferences.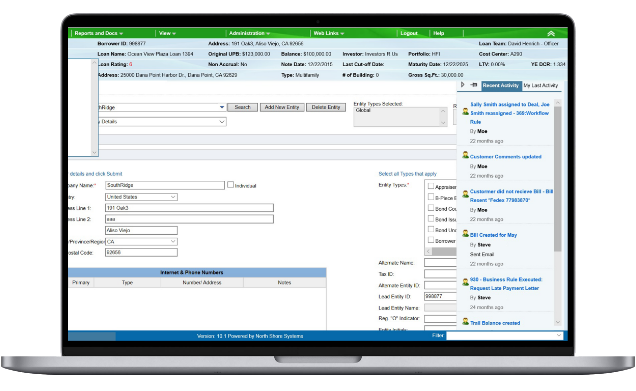 Flexible Billing/Payment Options:

The system supports all loan types and servicing options.
Years of
Experience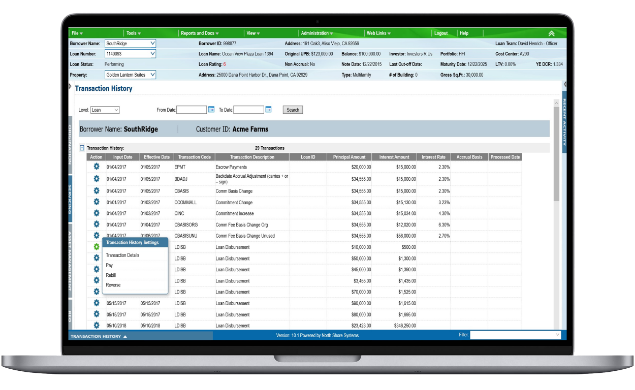 TRANSACTION HISTORY:

An intuitive interface for searching and viewing history at summarized and detailed levels.
CRE Servicing Software Features & FUNCTION

User-Defined Business Rules & edits:

Escrows for Taxes & Insurance with:

Collateral can be at all levels:

User-Defined Credit Products

Borrower/Investor/Third-Party Portals

Unlimited numbers of:

Unlimited Schedules for:

Benefits

35%

reduction in servicing costs
70%

improvement in system reliability & availability
100%

improvement in real-time data availability
90%

reduction in manual billing adjustments
50%

reduction in phone/fax/email usage
60%

reduction in nightly batch cycle time
70%

reduction in loan boarding time